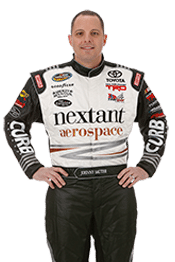 Stats:
Started: 9th
Finished: 4th
Laps: 100/100
Status: Running
Driver Points: 4th
Owner Points: 5th
Brooklyn, MI (August 15, 2015) – Making his seventh career NASCAR Camping World Truck Series (NCWTS) start at Michigan International Speedway (MIS) in Brooklyn, Johnny Sauter, driver of the No. 98 Nextant Aerospace Toyota Tundra turned a ninth-place qualifying effort into a fourth-place finish in Saturday's Careers for Veterans 200. The solid run marked the defending race winner's second top-five finish at the two-mile D-shaped oval, and the fifth of the 2015 NCWTS season.
Starting ninth, Sauter ran as high as first, and as low as 16th, but maintained an average running position of 5.6 through the 100-lap event. Crew chief Doug George brought the No. 98 Nextant Aerospace Toyota Tundra to pit road twice at laps 26 and 68, respectively for four tires and fuel, including a chassis adjustment to aid in a loose-handling Toyota Tundra.
The ThorSport Racing driver took the lead at lap 45, and led the field for 24 laps, before coming down pit road for his final stop of the day. Unfortunately, a right front shock would cause problems during the final pit stop, forcing Sauter to lose valuable track position. The Necedah, Wisc. native would rebound from as far back as eighth in the final 30 laps to finish fourth behind race winner, Kyle Busch.
Sauter's solid run allowed him to maintain the fourth position in the 2015 NCWTS driver point standings. The NCWTS veteran is currently 53 points behind leader, Tyler Reddick.
Quote:
"We had a great Nextant Toyota Tundra today, and I have to thank everyone at ThorSport Racing for that. I think we started ninth and drove to the front, then came out of the pits behind, and drove right back to the lead. We just ran wide open the whole time. We decided to take four (tires) because we had the lead, and then for whatever reason, we had trouble getting the right front tire off during that last pit stop because of the shock. I thought we had the best truck. I thought we could have raced with Kyle (Busch), but those restarts were just a little crazy. I wasn't very strong on restarts. I needed a couple laps to get separation, and then I could pick them off one at a time. All in all, a good day for us. Not exactly what we wanted, because we've been having kind of a bad year, but a top-five is decent."
Notes:
Johnny Sauter started ninth and finished fourth in the Careers for Veterans 200 at Michigan International Speedway on Saturday afternoon

Sauter's top-five finish at MIS was his second in seven starts at the two-mile D-shaped oval

The ThorSport Racing driver led the 32-truck field once, for 24 laps, during the 100-lap event. Sauter has led a total of 46 laps in 2015

In 2015, Sauter has five top-five and nine top-10 finishes in the season's first 13 races

The ThorSport Racing driver maintained a 4th-place position in the 2015 NCWTS driver point standings following the event

In 165 career NCWTS starts, Sauter has 10 wins, 61 top-five and 95 top-10 finishes

Kyle Busch won the 16th annual Careers for Veterans 200 followed by Ryan Blaney (second), Erik Jones (third), Sauter (fourth), and Austin Dillon (fifth).

Up next: The UNOH 200 presented by Zloop on Wednesday, August 19