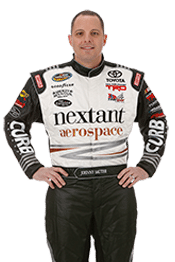 Team Information:
2015 Driver Point Standings: 4th
2015 Owner Point Standings: 4th
Crew Chief: Doug George
Sandusky, Ohio (September 22, 2015) – Coming off his sixth top-five finish of the 2015 NASCAR Camping World Truck Series (NCWTS) season at Chicagoland Speedway in Joliet, Johnny Sauter, driver of the No. 98 Nextant Aerospace/Curb Records Toyota Tundra, is looking for his 11th career win and his first at New Hampshire Motor Speedway (NHMS) in Loudon. Sauter, who has four previous starts at the 1.058-mile track, has three top-five and four top-10 finishes and ranks third among active drivers entered in the 18th annual event in Average Finish (5.3). In fact, the ThorSport Racing driver finished a track-best fourth in 2014. With a "rock solid" record a the "Magic Mile," don't count out Sauter, and his No. 98 team for a solid run on Saturday.
Sounding Off – Johnny Sauter:
"I like New Hampshire Motor Speedway. It's definitely one of my favorite tracks to go to. I've had it circled on the calendar all year long as a place we can go and capitalize. For whatever reason, this type of track really suits my driving style. I love the atmosphere there, and it's a good part of the country to be going to this time of the year. Hopefully we can go there this year, and finish a few spots better than we did the year before by coming home with a win."
News & Notes:
Chassis Chatter…The No. 98 ThorSport Racing team will unload chassis No. 52 for Saturday's UNOH 175 at New Hampshire Motor Speedway. This particular chassis has become a work horse for Sauter in 2015. It has been raced three times this season at Dover (Del.) International Speedway (ninth), Gateway Motorsports Park in St. Louis (third), and Bristol (Tenn.) Motor Speedway (ninth).
Loudon Stats… Sauter will be making his fifth start at the 1.058-mile NHMS on Saturday. In four previous starts the ThorSport Racing driver has scored three top-five and four top-10 finishes, including a track-best

finish of fourth in 2014.

Sauter's Looking For Number Seven… Sauter is one of three drivers with a win won in six consecutive NCWTS seasons, and the ThorSport Racing diver is looking to make it seven in 2015. In fact, only three drivers have been able to accomplish the feat in the series 20-year history (Todd Bodine, Kyle Busch, and Ron Hornaday, Jr.).
2015 Season in Review… In 16 NCWTS starts in 2015, Sauter has completed 2402 of 2405 laps attempted (99.9%), and led 105 laps en route to six top-five and 12 top-10 finishes. The ThorSport Racing driver has an Average Start of 10.8 and an Average Finish of 8.4 with a Best Start of third at Chicagoland Speedway in Joliet, and a Best Finish of third at Kansas Speedway in Kansas City and Gateway Motorsports Park in St. Louis.
Previous Race Recap…Sauter started second, led a race-high 52 laps, and finished fifth in the American Ethanol 225 at Chicagoland Speedway.
Sauter's NCWTS Stats at Loudon:
Four starts since 2009

725 of 725 laps completed (100%)

0 laps led

Three top-five finishes

Four top-10 finishes

Best start: 7th (2009 & 2010)

Best finish: 4th (2014)

Average start: 11.5

Average finish: 5.2
Johnny Sauter's 2014 Highlights:
Finished fourth in the NCWTS driver point standings

Sixth consecutive full-time season driving for ThorSport Racing

Earned a win at Michigan International Speedway in Brooklyn, extending his win streak to six consecutive seasons

Earned eight top-five and 16 top-10 finishes

154 laps led

Average finish: 9.3
Sauter's Career Truck Series Stats:
168 starts since 2003

10 wins

62 top-five finishes

98 top-10 finishes

Five poles

25,287 laps completed

1264 laps led

Average start: 10.7

Average finish: 10.7
Race Information:
Date: Saturday, September 26, 2015
Time: 1:00 p.m. ET on FOX Sports 1
Track Details: 1.058-miles
Distance: 175 laps/185.15 miles
About Nextant Aerospace
Nextant's pioneering process for remanufacturing business jets is now recognized as an established technical and commercial success worldwide with significant sales in every major operator category and class-leading levels of comfort, performance, and reliability at a purchase price half that of comparable aircraft. The revolutionary 400XTi light jet features Williams FJ44-3AP engines and the Rockwell Collins Pro Line 21(tm) integrated flight deck. The same winning combination is expected to repeat this success with the Nextant G90XT turboprop powered by next-generation GE H75-100 engines and an enhanced Garmin G1000 integrated flight deck. Founded in 2007, Nextant is a Directional Aviation company based in Cleveland, Ohio. For more information, visit www.nextantaerospace.com, like us on Facebook, follow us on Twitter @NextantAero or join us on LinkedIn.