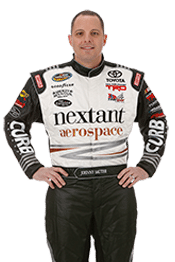 Team Information:
2015 Driver Point Standings: 4th
2015 Owner Point Standings: 6th
Crew Chief: Doug George
Sandusky, Ohio (July 20, 2015) – Once a year, the NASCAR Camping World Truck Series (NCWTS) heads to the cornfields of Rossburg, Ohio for the 1-800-CarCash Mudsummer Classic at Eldora Speedway. The half-mile, high-banked clay oval is a spectacle in the series and the only dirt race in NASCAR. With so many unknowns involving the ever-changing track surface, the unique three-segment, 150-lap event proves to be a challenge for both the drivers and the teams.
In 2013, Johnny Sauter, driver of the No. 98 Nextant Aerospace/Curb Records Toyota Tundra, was taken out prematurely, while running inside the top-15 and settled for a 29th-place finish. In 2014, the ThorSport Racing driver found his bearings, winning his heat race and starting fifth for the main feature. Running as high as third, Sauter was able to bring home a track-best eighth-place finish.
This year, Sauter, who is fourth in the 2015 NCWTS championship point standings, is looking for his first top-five finish at Eldora Speedway on Wednesday night.
Sounding Off – Johnny Sauter:
"It's different, there's no doubt about that. Racing at Eldora brings so many challenges to the table. You never really know what to expect because the track is constantly changing. When you unload, the track is kind of tacky and you think to yourself, 'I feel good, I don't have any problems,' and then you go out five minutes later and you are so loose you can't even drive it. Last year I thought I got the hang of it. I won my heat race, but in the feature I was just way too loose. I think there are some things we need to look at from our perspective. We need to be able to make the throttle a little more manageable, but it's still gotta turn. That's the unique thing about dirt racing, there is a fine line between being able to drive the middle and having forward traction, that's for sure."
News & Notes:
2015 Season Review… In 10 NCWTS starts in 2015, Sauter has completed 1664 of 1666 (99.9%) laps attempted, and has led 18 laps en route to four top-five and seven top-10 finishes.
Triad Trailblazer… If Johnny Sauter, or another Triad Racing Technologies-backed team can win on Wednesday night at Eldora Speedway, it will be the 100th win for the Toyota Racing engine supplier.
Previous Race Recap…Sauter started fifth in the UNOH 225 at Kentucky Speedway in Sparta when practice and qualifying was cancelled and the field was set based on the 2015 NCWTS owner point standings. Running as high as third and as low as 18th, the ThorSport Racing driver used a two-tire pit strategy to secure a 12th-place finish in the wreck-shortened event.
Sauter's NCWTS Stats at Eldora Speedway:
Two starts since 2013

270 of 303 laps completed (89.1%)

0 laps led

One top-10 finish

Best start: Fifth (2014)

Best finish: Eighth (2014)

Average start: 12.5

Average finish: 18.5

According to NASCAR's Loop Data Statistics, Sauter ranks:

Seventh in Average Running Position (12.3)

Eighth in Driver Rating (75.3)

Third in Laps in the Top 15 (258)
Johnny Sauter's 2014 Highlights:
Finished fourth in the NCWTS driver point standings

Sixth consecutive full-time season driving for ThorSport Racing

Earned a win at Michigan International Speedway in Brooklyn, extending his win streak to six consecutive seasons

Earned eight top-five and 16 top-10 finishes

154 laps led

Average finish: 9.3
Sauter's Career Truck Series Stats:
162 starts since 2003

10 wins

60 top-five finishes

93 top-10 finishes

Five poles

24,549 laps completed

1,177 laps led

Average start: 10.7

Average finish: 10.8