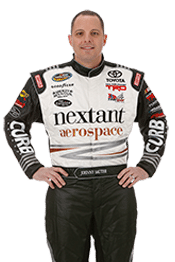 Stats:
Started: 3rd
Finished: 5th
Laps: 150/150
Status: Running
Driver Points: 4th (-52)
Owner Points: 4th
Joliet, IL (September 19, 2015) – Johnny Sauter, driver of the No. 98 Nextant Aerospace/Curb Records Toyota Tundra, looked strong in the early running of the rain delayed American Ethanol 225 at Chicagoland Speedway on Saturday morning. The ThorSport Racing driver lead a race-high 52 laps in the 150-lap event, but a problem on pit road, late in the race, relegated the veteran driver to a fifth-place finish in the 16th race on the 2015 NASCAR Camping World Truck Series (NCWTS) schedule.
Starting third, Sauter battled a Toyota Tundra that was "tight off" in the opening laps. Crew chief, Doug George brought the No. 98 machine to pit road at lap 32, under the competition caution, for four tires and fuel. Sauter would assume the lead for the lap-36 restart, and lead the field for 51 of the ensuing 53 laps. Still reporting that his Nextant Aerospace Tundra, "needed to be freed up," Sauter gave up the lead to bring his Tundra to pit road, for a scheduled stop, on lap 85, for four tires, fuel, and an adjustment. Unfortunately, Sauter would stall on pit road when his No. 98 machine ran out of fuel, forcing the NCWTS veteran to lose valuable track position.
Restarting sixth, with only 55 laps remaining, the hard-charging Sauter would work his way up to second, battling the race leader for position. With varying pit strategies playing out, the ThorSport Racing driver was looking for a late-race caution. Unfortunately, George was forced to bring Sauter to pit road, with only 15 laps remaining, for two tires and fuel. Finding his way back to the race track in the 10th position, Sauter would rally in the closing laps to finish fifth, his third top-five finish in seven starts at the 1.5-mile tri-oval.
Quote:
"The race track was eventful, as always, and the groove moved around. This place has obviously developed a lot of character over the years. What a great Nextant Aerospace Toyota today. I'm so proud of these guys at ThorSport Racing. Just a great truck. We ran out of fuel on pit road, about halfway down, and we obviously lost a lot of track position, and we just couldn't get it back. We got back to second and lost a little bit, I got a little bit too tight. Shame on me for not trying to keep up with the race, I guess. It was a solid day, and I'm proud of these guys. It's an okay thing with a top-five finish, but I felt like we had the truck to beat yesterday after practice, and tried to manage expectations. It just didn't go our way today. We just have to be a little bit sharper."
Notes:
Johnny Sauter started third and finished fifth in the American Ethanol 225 at Chicagoland Speedway

The ThorSport Racing driver led the 32-truck field twice for 52 laps, a race high

Sauter's fifth-place finish was his third top-five and fifth top-10 finish in seven starts at the 1.5-mile tri-oval

In 2015, Sauter has six top-five and 12 top-10 finishes

The ThorSport Racing driver maintained a 4th-place position in the 2015 NCWTS driver point standings following the event

In 168 career NCWTS starts, Sauter has 10 wins, 62 top-five and 98 top-10 finishes

John Hunter Nemechek won the seventh annual NCWTS race at Chicagoland Speedway followed by Tyler Reddick (second), Timothy Peters (third), Daniel Suarez (fourth), and Sauter (fifth). ThorSport Racing teammate Matt Crafton finished 14th, Cameron Hayley 16th and Jesse Little 30th

Up next: The UNOH 175 from New Hampshire Motor Speedway on Saturday, September 26, 2015