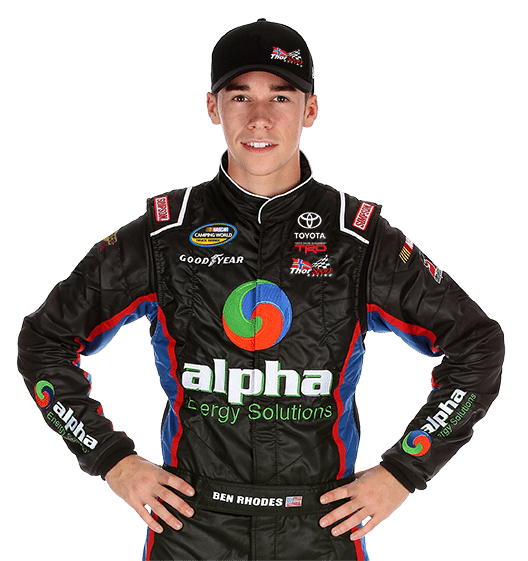 Team Information:
Crew Chief: Kevin Bellicourt
Manufacturer: Toyota
Engine: Triad Racing Technologies
2016 Driver Point Standings: 10th
2016 Owner Point Standings: 9th
Sounding Off – Ben Rhodes:
Are you ready to go dirt racing here in Eldora?
"I am. The last time I raced on dirt was in go-karts, so it's been a few years, and I've got a little bit to pick up on – a little bit to learn. The good news is, that I've got a couple good people that have raced on dirt at, ThorSport, that can help me. This one guy's name is Rico Abreu, or something like that, and he's raced sprint cars for a long time now. Tracy Hines, our competition director, isn't too shabby on dirt, and our engineer has done some dirt stuff too. So, I'm just trying to learn as much as I can from them, take some notes, and I think it'll be fine. I like loose race cars, so I think the dirt will be really fun."
News & Notes:
Chassis Chatter…The No. 41 ThorSport Racing team will unload chassis No. 53 for Wednesday night's Aspen Dental Eldora Dirt Derby at Eldora Speedway. This is the same chassis Rhodes piloted earlier this season at Atlanta Motor Speedway, finishing sixth, and Kansas Speedway, finishing 18th.
Eldora Dirt… Although Rhodes will be making his 15th career NASCAR Camping World Truck Series (NCWTS) start at Eldora Speedway, the ThorSport Racing driver will make his track debut at the prestigious half-mile "Big E" on Wednesday night.
XPO Logistics… XPO Logistics, one of the world's largest providers of transportation and logistics services, will co-sponsor Rhodes for two NCWTS races in 2016. The global XPO Logistics brand will be featured on the No. 41 Toyota Tundra at the 4th Annual Aspen Dental Eldora Dirt Derby at Eldora Speedway and at Talladega Superspeedway later this season.
Rookie Stripe… Rhodes is currently third in the Sunoco Rookie of the Year standings behind leader, William Byron after 10 of 23 races this season.
Race Rewind – Kentucky… In his track debut at Kentucky Speedway in the NCWTS, the ThorSport Racing driver started 9th, ran as high as fifth, and finished 13th.
Rhodes' 2016 NCWTS Stats:
Starts: 10

Poles: 1 (Martinsville, 2016)

Top-5 Finishes: 2

Top-10 Finishes: 4

Laps Completed: 1596 of 1666 (95.8%)

Laps Led: 51

Start: 9.6

Finish: 12.2
Rhodes' Career NCWTS stats:
Starts: 14 since 2014

First full-time season: 2016

Poles: 1 (Martinsville, 2016)

Top-5 Finishes: 3

Top-10 Finishes: 7

Laps Completed: 2347 of 2448 (95.9%)

Laps Led: 51

First start: Martinsville (8th)

Best finish: 2nd (Gateway, 2016)

Start: 9.3

Finish: 11.9